CRYSTALS, CANDLES + HOLISTIC HEALTH
We believe in nurturing the Body, Mind + Spirit as a whole.
Which is why our candles act as a tool for meditation and to help you to find time for yourself to re-connect.
On this page you will find all things wellness;
Easy to follow descriptions on our Crystals + their meanings.
Moon phases + how to live in alignment with the lunar cycle, and
Exclusive Yoga + Mediation clips we have recorded just for you!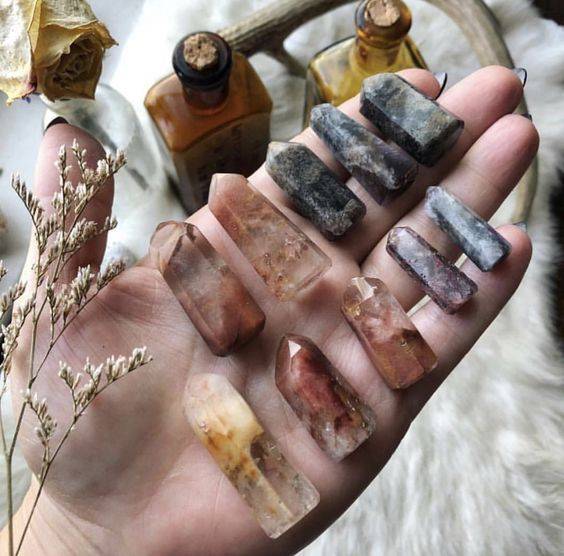 Crystals have been used around the world for thousands of years to attract love, promote luck, ensure protection and restore health!
We handpick each crystal, then energetically charge them in the light of the moon and embellish every candle with it's own unique stone.
By combining the crystals in the candles we have locked in the energy of that stone, to ensure the vibration of your candle is emitted every time you light the wick and long after the flame goes out.
Our intention is for your crystal candle to become a part of your wellness ritual, as it acts as a vessel to remind you to give yourself permission to stop + re-connect.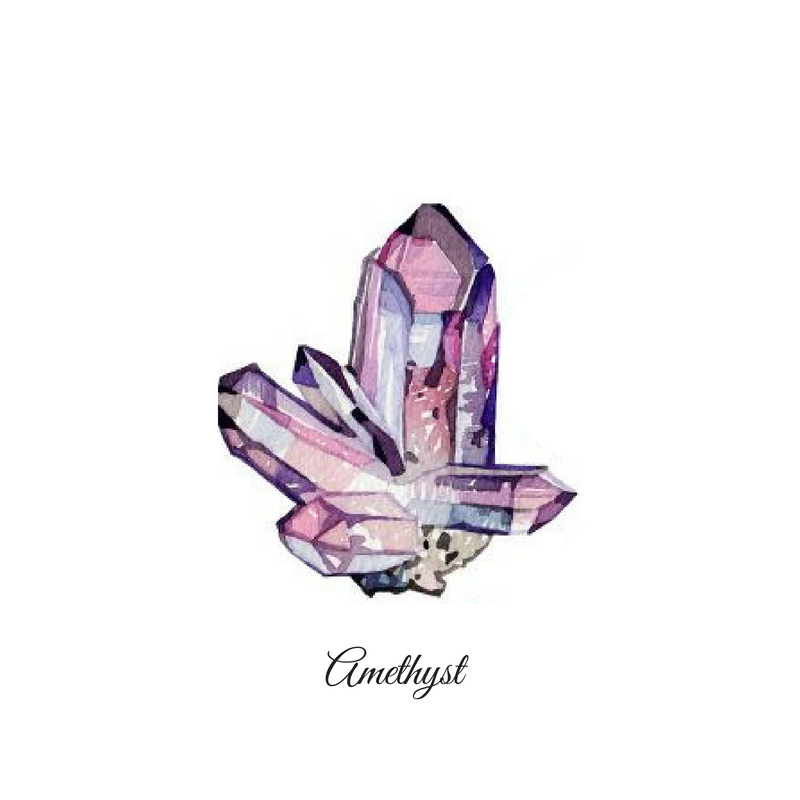 Amethyst is a meditative and calming stone which works in the emotional, spiritual, and physical planes to promote calm, balance and peace.
Colour: Violet (shades of purple)
Birth Month: February
Zodiac: Aquarius + Pisces
Chakra: Crown (Sahasrara) - Spirituality Enlightenment
Affirmation/Mantra: "Everything I need comes to me at the perfect time. I am connected to the divine within. Safe and secure."
Angel: Archangel Zadkiel - Spiritual Wisdom
Emotional: Soothes; Used to ease stress and emotional exhaustion and helps with addictive traits within the personality.
Mental: Calms and focuses an overactive mind
Physical: Eases Headaches TIP: store a couple of tumble's in the fridge and place the cold amethyst stones over the temples.
HACK: Place a stone by the entrance of your home or work area to protect your space from bad energy and the vibration of negativity.
Also a great stone to put in a lavender mist, to spray around your pillow for a good night sleep and happy dreams.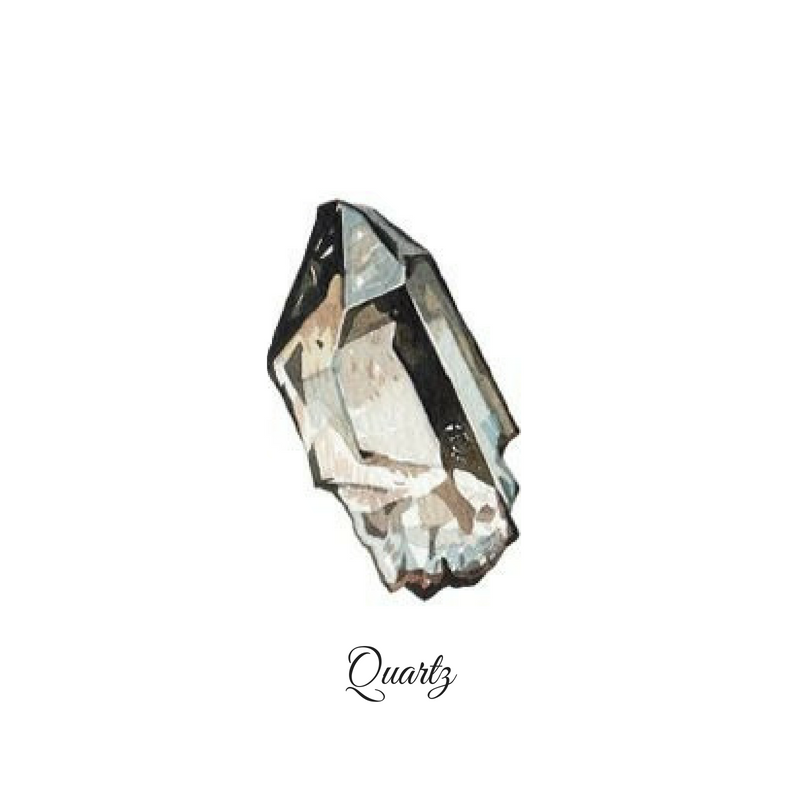 Quartz is known as the 'Master Healer' It is used to amplify and strengthen the aura as well as cleanse and shift any stagnant energy. It's a good stone to use while in meditation to dive into oneself and to connect with higher beings.
Colour: Clear/Grey (Although, can be all the colours of the rainbow)
Birth Month: All
Zodiac: All
Chakra: Crown (Sahasrara) - Spirituality Enlightenment
Affirmation/Mantra: "My mind, body, and soul are energized"
Angel: Archangel Raziel - The wizard of the Archangels as he holds the key to unlocking many of the secrets and mysteries of the Universe.
Emotional: Increases clarity of thought sharpness
Mental: It assists with confidence and improves awareness by balancing & revitalising the mental planes
Physical: Enhances healing, stimulates the immune system and cleanses the organs.
HACK: Use quartz to amplify or cleanse other crystals. scatter around the power points in your home to neutralise background radiation, including electromagnetic smog; such as powered devices.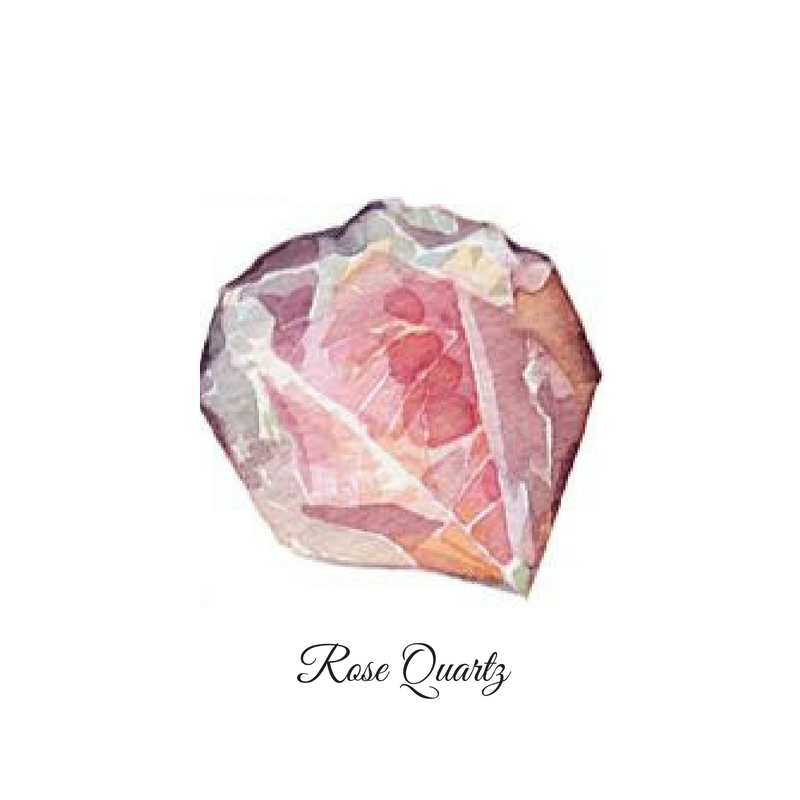 Rose Quartz emits a soft, gentle energy full of support and comfort. It's an incredibly nurturing stone that attracts all forms of unconditional love. Including self-love, the love of others, attracting romance and aids with relationship problems.
Colour: Pink
Birth Month: October, November
Zodiac: Scorpio
Chakra: Heart (Anahata) - Unconditional love
Affirmation/Mantra: "I feel and embody love. I listen to my heart and honor its connection to the hearts of others. I allow love to fill me up and guide me in all of my actions".
Angel: Archangel Raguel- Instills harmony within relationships, ensuring peaceful interactions & communication.
Emotional: Heals the emotional heart. As it is the 'love stone' it can be used to heal a broken heart.
Mental: Soothing and comforting & aids with the thought of negative feelings; such as hatred, anger or hostility. Can help with self esteem & to recognise self worth.
Physical: Said to be the 'fertility stone' and is a good crystal to have for a newborn. Can also aid with depression or when feeling down.
HACK: Soak or drop Rose Quartz to energetically charge some warm water when washing your face to keep skin young. Also by holding a rose quartz crystal against a bruise can reduce swelling and bruising of the skin.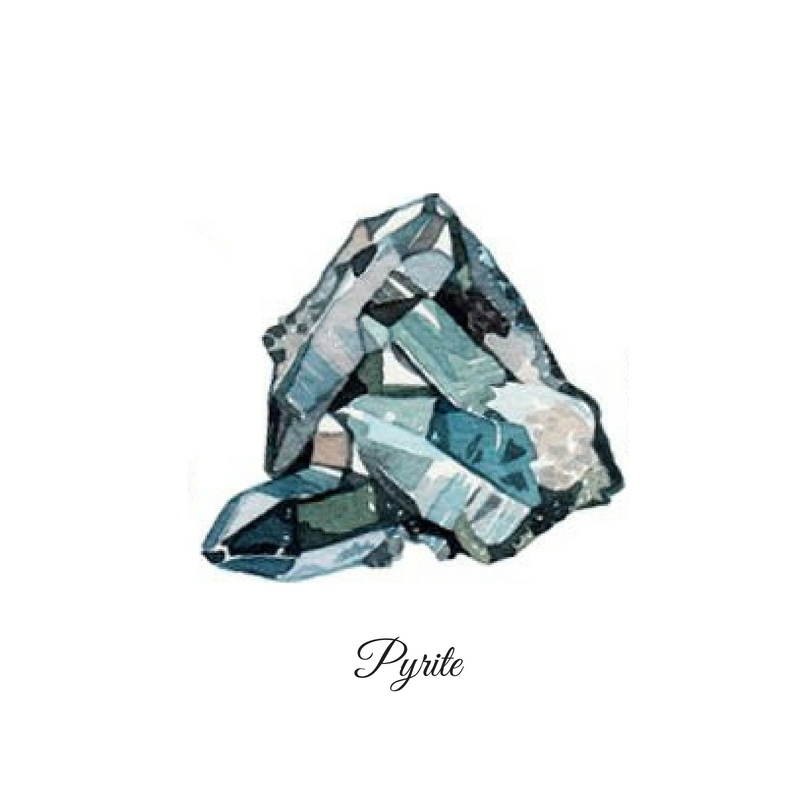 Pyrite is a protective, shielding stone and is excellent to wear or carry as an amulet to deflect harm and danger. Pyrite guards against ongoing control, criticism and manipulation by a partner, parent or employer, lending the power to resist without becoming angry or upset, by changing the balance of power.
Colour: Silver and sparkly (AKA fools gold)
Birth Month: July, August
Zodiac: Leo
Chakra: Solar Plexus (Manipura) - Confidence + Strength
Affirmation/Mantra: "My confidence is rock solid. I am prosperous and abundant in all facets of my life".
Angel: Archangel Uriel- Raises your confidence and self-esteem and helps you move beyond.

Emotional: Pyrite is a very protective stone, shielding the user from negative energy of all kinds. Pyrite blocks energy leaks and mends auric tears.
Mental: Pyrite promotes good physical health and emotional well-being.
Physical: Supports the ideal of perfect health and well-being. In healing it often gets fast results and may be useful in fighting colds, flu and other viruses, skin diseases and fungal infection, increases oxygen supply to the blood and strengthens the respiratory and circulatory systems and is is beneficial to the lungs.
HACK: Carry Pyrite in your pocket to protect you from both environmental pollution and physical danger. It's an ideal stone for students & boosts confidence to lead you into your power.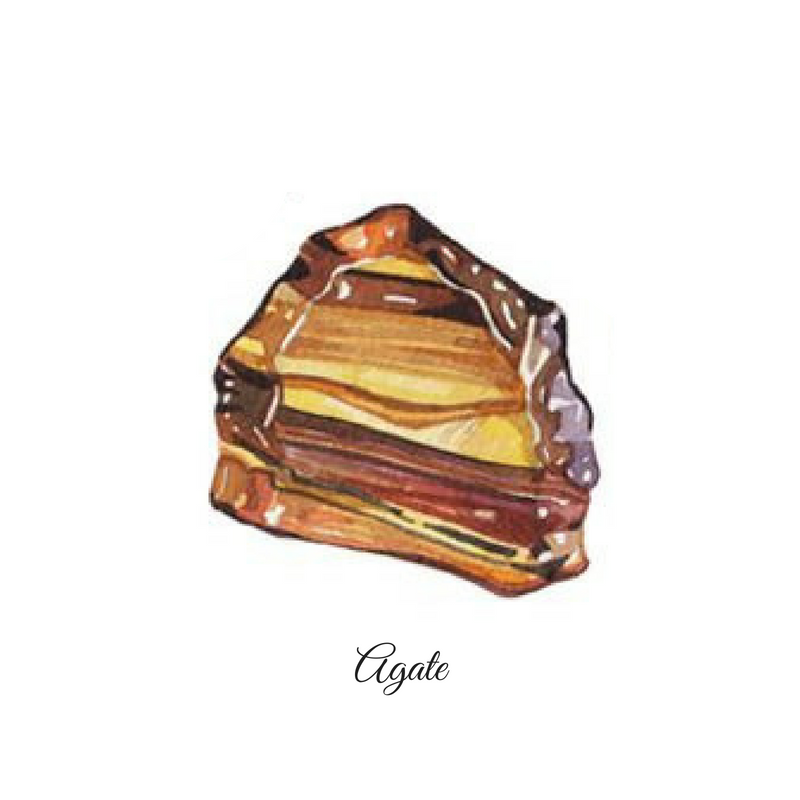 Agate is a gentle stone that helps to ground & center your energy. It will show you that the possibilities are endless, and you can go follow the path that best resonates with you! It will encourage you to do some self-examination & how you feel about it as a whole. This stone will curb your desire to accomplish many things all at once. It will help you better manage your time so that you will not feel overwhelmed.
Colour: Brown, Grey, Pink (Mix)
Birth Month: May, June
Zodiac: Gemini
Chakra: Sacral Chakra (Svadhishthana) - Center of pleasure, enjoyment + Creativity
Affirmation/Mantra: "With ease of mind, I welcome peace and balance into my life"
Angel: Archangel Zadkiel -For its gentle ability to distill calm, peaceful energy.
Emotional: Reduces tension and stress and helps to harmonize the environment in which you are in.

Mental: Helps with concentration
Physical: Helps with dehydration + improve hearing.
HACK: Put an agate stone chain on your keys to protect and help you center & stabilize your energies. When used as an elixir, Agate can stimulate the digestive system.

Moonstone has a very strong connection to the spiritual world. A perfect stone if you are feeling disconnected from a higher power & feel as if you need some spiritual guidance. Used to get in touch with your emotions.
Colour: White, cream, peach, light pink + Rainbow
Birth Month: June, July
Zodiac: Cancer
Chakra: Third Eye (Ajna) - unlock intuition, psychic ability + higher consciousness.
Affirmation/Mantra: "I call forth the energies of the deep Feminine, and I open myself to the inner gifts of the Goddess"
Angel: Archangel Uriel - Director of wisdom and light to prepare for transformation.
Emotional: Soothing to the emotions. Allows positive energy to flow, which dissolves past hurts, pain and longings. Eases Mood Swings
Mental: Opens the mind to serendipity and hidden opportunities. Increases Intuition.
Physical: Especially beneficial for the womens reproductive system. Soothes stomach upsets and digestive disorders and calms an overactive thyroid.
HACK: place a moonstone tumble in each hand while meditating, to balance your yin/ yang energy and stimulate your spiritual connection.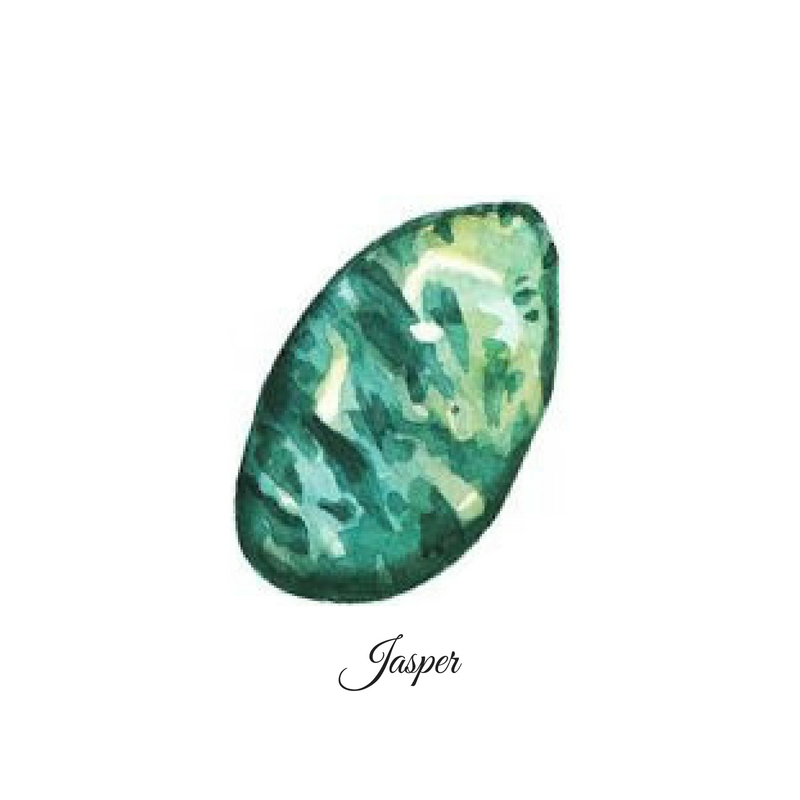 A stone of physical strength and energy. Jasper stimulates gently and steadily, enhancing stamina and endurance, and increasing the amount of chi, or life force, in one's aura. It is a stone of health and passion, and promotes courage.
Colour: Green, Red, Brown
Birth Month: October
Zodiac: Scorpio
Chakra: Root Chakra (Muladhara) Associated with the feeling of safety and grounding.
Affirmation/Mantra: "I stay rooted and grounded, no matter the direction or force of the wind"
Angel: Archangel Jeremiel - New age beliefs consider Jeremiel the angel of joy. The archangel appears in female form to girls and women to bring them blessings.

Emotional: Jasper provides a strengthening energy for the emotional body, easing stress & producing a calm stability.

Mental: For those sensitive to its vibration, it creates a special aura, a pleasant sensation as it radiates throughout the body. It invites feelings of compassion and patience, humility, and even generosity.
Physical: Healing and sustaining the physical and emotional bodies during injury, prolonged illness or hospitalization. Its Earth energies bring gradual strength and renewed vitality.
HACK: It makes an ideal worry or rubbing stone for soothing the nerves and increasing one's focus and for banishing harmful thoughts.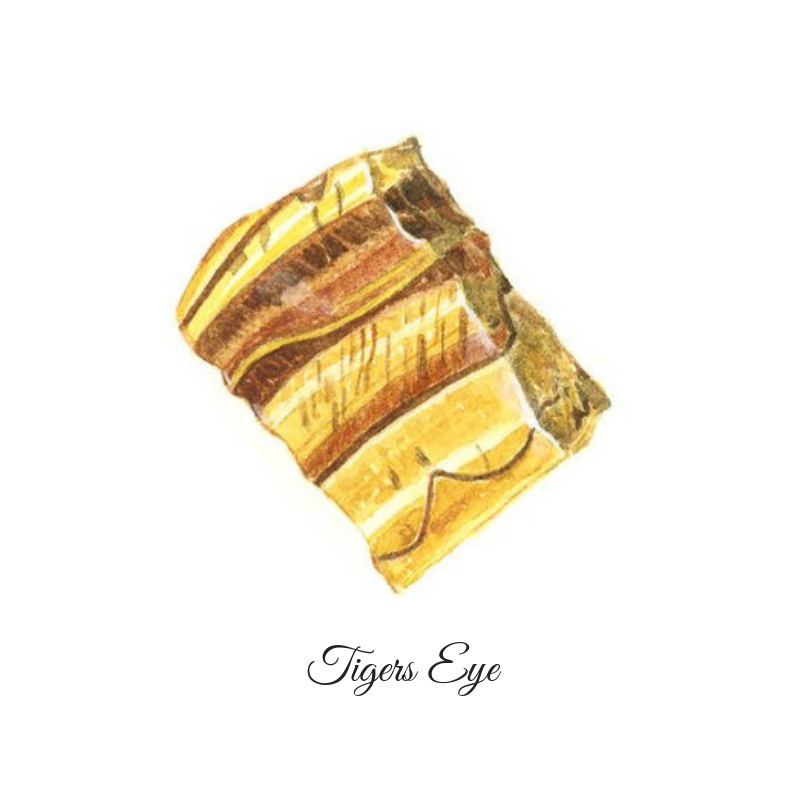 Tigers Eye is a stone of luck and good fortune to attract a steady flow of money to the home. It is ideal for entrepreneurs and those setting out in business for the first time; also for those building up skills and a knowledge base for major career changes in the future.
Colour: Black, gold, orange, brown, yellow combination
Birth Month: October, November
Zodiac: Libra
Chakra: Solar Plexus (Manipura) - Confidence + Strength
Affirmation/Mantra: "My mind, body, and soul are energized"
Angel: Archangel Raziel The wizard of the Archangels; as he holds the key to unlocking many of the secrets and mysteries of the Universe.
Emotional: Increases clarity of thought sharpness and perception. A powerful stone that helps you to release fear and anxiety and aids harmony and balance. It stimulates taking action, and helps you to make decisions with discernment and understanding, unclouded by your emotions.
Mental: It assists with confidence + improves awareness by balancing and revitalising the mental planes.
Physical: Enhances healing, stimulates the immune system and cleanses the organs.
HACK: Keep a tigers eye stone in your purse to increase your wealth, boost your money flow, or create more opportunities for growth or expansion. It can bring in abundance and prosperity to your life if you play your cards just right!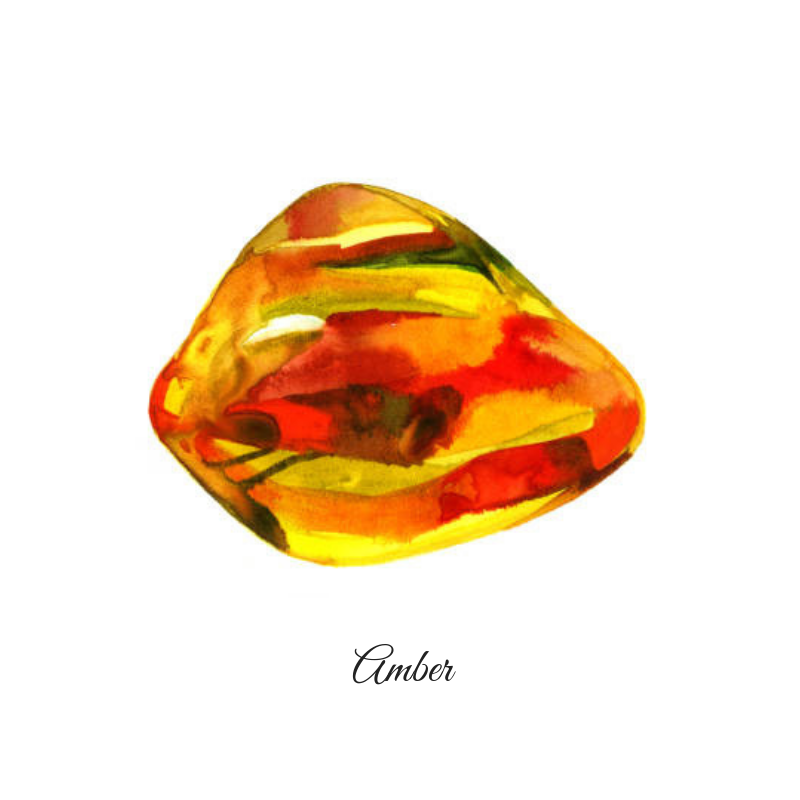 Amber is a warm and powerful stone that is said to be one of the most ancient stones discovered. Amber was considered the "soul of the tiger" in Asian cultures and regarded as the stone of courage. It is also believed that amber attracts good luck.
Colour: Yellow, Orange (amber)
Birth Month: March, April, May, June
Zodiac: Cancer
Chakra: Solar Plexus (Svadhishthana) - This is the source of personal power, self-belief and self-worth
Affirmation/Mantra: "I have the courage to set boundaries with love and grace and I am thereby protected from negative energy. Experiences from the past empower me. It is safe to be powerful in loving ways. ".
Angel: Archangel Uriel - Director of wisdom and light to prepare for transformation.
Emotional: Eliminates fears, dissolves negative energy and helps develop patience and wisdom.
Mental: Balances emotions and clears the mind
Physical: Relieves a headache
HACK: Amber is a protective stone for children and may be worn as a necklace. It is prized for energetically reducing teething pain, (though it should never be placed in the mouth)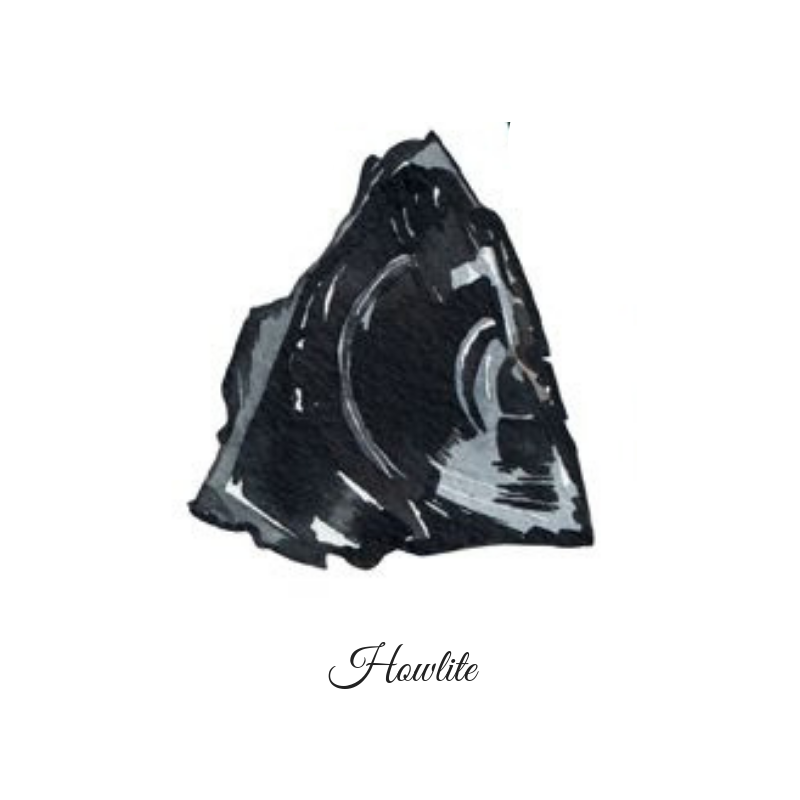 Howlite is a perfect stone to use when needing to reduce anxiety, tensions and stress.
Howlite can be used to facilitate awareness, encourage emotional expression and assist in the elimination of pain, stress and/or rage.
Colour: Black, Grey, white (marble grain)
Birth Month: Gemini
Zodiac: May, June
Chakra: Throat (Vishuddha) - Express yourself by speaking your truth and by hearing the truth of others.
Affirmation/Mantra: " 'I communicate calmly and compassionately, with patience and awareness. I'm open to fresh perspectives and other points of view.'
Angel: Archangel Gabriel - Sensitive and Compassionate
Emotional: Boost Patience and aids Insomnia
Mental: Helps minimise stress and calms anger. It's an extremely helpful stone to use to calm yourself if you are stressed or anxious with having to deal with angry people.
Physical: Aids trouble sleepers and insomnia
HACK: Wear as a charm around your neck to allow to authentically express yourself. It is also known to calm animals.
Place a piece in the sleeping area of your pet to help them to relax and be more peaceful.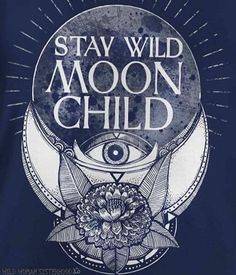 A guide to live, love + shine bright to the 4 moon phases + learn to live in alignment with the lunar cycle.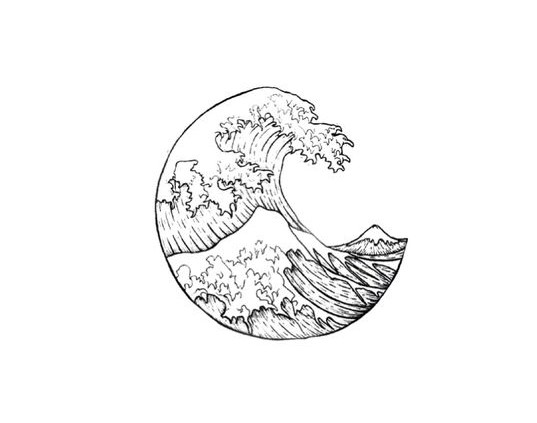 USE A MOON CALENDAR TO CHART WHEN THE MOON IS AT 100% (FULL MOON) THIS IS THE IDEAL TIME TO LAY YOUR CRYSTALS IN THE EARTH & CHARGE THEM UP!
LAY A CLEAR QUARTZ CRYSTAL WITH YOUR CLUSTER, TO AMPLIFY THE CHARGE.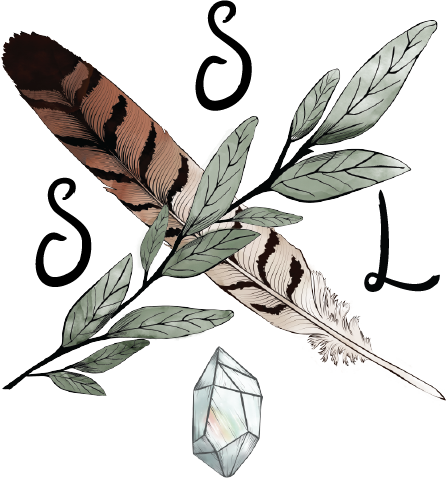 BETWEEN THE NEW MOON & WANING MOON IS THE PERFECT TIME TO WASH YOUR CRYSTAL IN RUNNING WATER. (PREFERABLY THE SEA, RIVER OR STREAM) USE A SAGE SMUDGE STICK OR PALO SANTO WITH A FEATHER TO CLEANSE YOURSELF & YOUR CRYSTALS TO BEGIN YOUR INTENTION SETTING.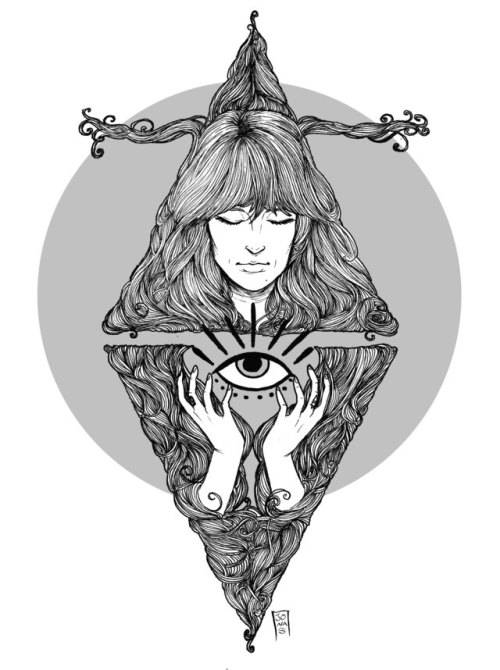 AFTER YOU HAVE USED THE NEW MOON TO CREATE AND WRITE DOWN YOUR INTENTIONS, CREATE A RITUAL WHERE CAN YOU GATHER YOUR CRYSTALS AND CREATE A MANTRA FOR YOUR INTENTION SETTING. CREATE A CRYSTAL GRID TO MANIFEST YOUR DEEPEST HOPES AND DREAMS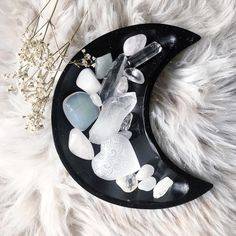 SORRY I CAN'T TONIGHT...
I'M CHARGING MY CRYSTALS!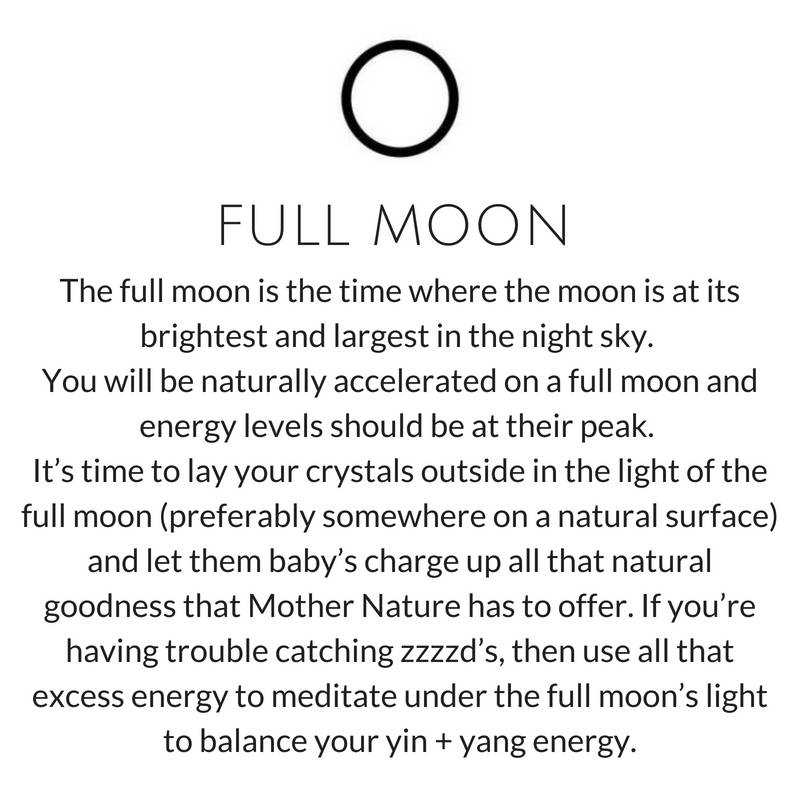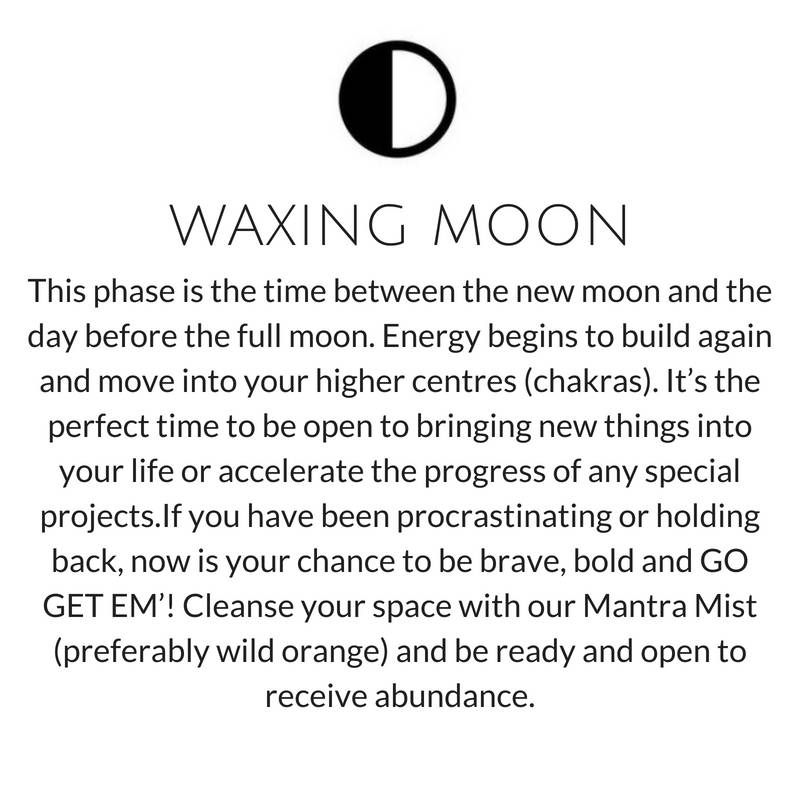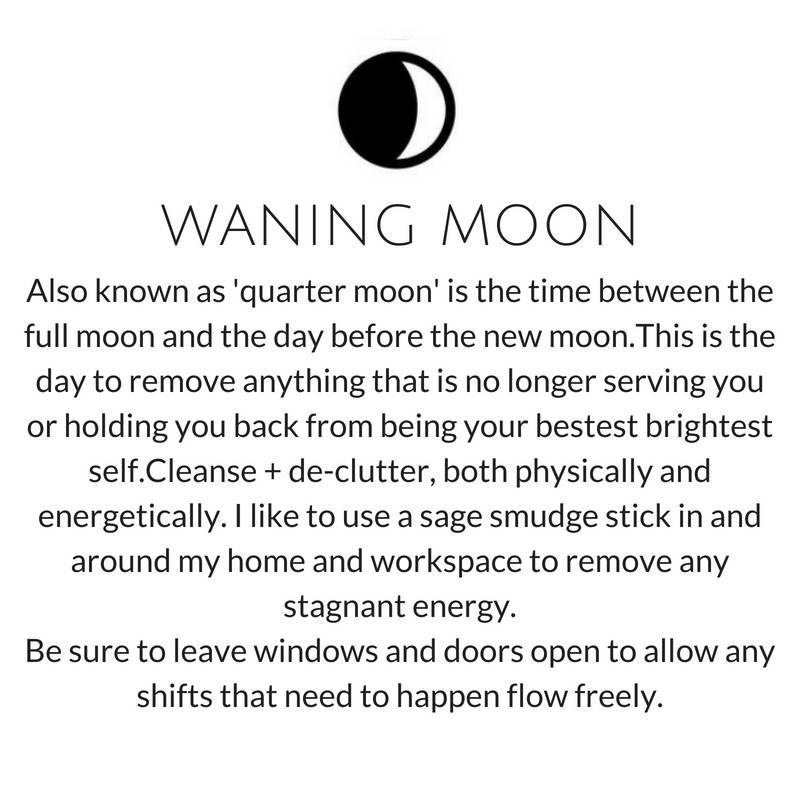 In the forest of Mullumbimby, Byron Bay, NSW Australia, lies a sacred garden named 'Crystal Castle'
These gardens surrounded by some of the largest crystals in the world were the backdrop for our guided yoga clips we recorded by us, just for you!
In Yoga; the body, breath and mind are seen as a union to allow you reconnect with your true self.
We encourage using our candles in the ritual of yoga and meditation practices to bring a sense of mindfulness and clarity to your daily life.
Light your candle, Get on your mat, Tune in, and let the good vibes flow!